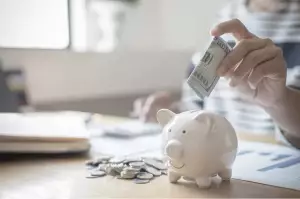 7 Tips to Help You Save Money: Cut Costs and Keep Your Finances
In today's world, finding ways to save money can seem like a never-ending battle. With the cost of living rising and wages staying stagnant, it seems like there's no end in sight for those trying to stay on budget.
Fortunately, there are a plethora of money-saving tips at your disposal that don't take much effort to implement. From using different apps to save money and get organized, to taking advantage of everyday deals for pennies on the dollar. You have so many options when it comes to saving money.
But with so many options and ideas out there about how you can save more money for less time. It can start to feel overwhelming if you're not sure where to start or what your options are.
Pause for a second and take a look around your home and see just how many little changes you can make over the next few weeks or months to make savings happen organically.
Even small steps like switching from buying bottled water or sodas instead of sweetened juices or other sugary drinks will help you break spending habits and reduce unnecessary costs in your life over time.
Google Apps for Work
If you're currently working from home, you may be able to save money by switching to a virtual office. While many companies offer this perk as a benefit to employees, you may be able to take advantage of it for yourself.
There are many benefits to working remotely as opposed to being in an office every day. Some of the most important are the ease of scheduling and avoiding unnecessary expenses like rent, insurance, and parking. If you work from home, you may want to consider switching to a virtual office.
Not only will you save money by avoiding the costs associated with an office, such as rent and utilities, but you will be able to schedule appointments and work on your terms, which may lead to greater productivity.
Set up automatic bill payment
If you're not currently making your bills automatic, you're probably falling victim to late fees, bank fees, and other costly penalties. Set up automatic payments for your bills and you can rest assured that you'll be paid on time.
This will also save you time and effort because you won't have to remember to pay your bills every month. It's also a great way to stay organized because you will be able to see at a glance how much you owe. Depending on your circumstances, you may even be able to get your bills paid for less than their current amount.
Use an app to save money on groceries
Many grocery stores offer "matching" or "100%" savings promotions, which means you can get up to 50 cents off your purchase if you buy another brand.
If you're not currently doing this, you're missing out on a great opportunity to save money. Many apps enable you to find these matching and money-saving promotions. One of the most popular is ShopSmart.
Once you've set it up and activated your account, all you have to do is scan a barcode while shopping. This will enable you to instantly see if a product is on sale and at what price. Another app that can save you money on groceries is Price Alert.
Remote Companies That Offer Work-From-Home Jobs
Save on travel by using a cab or ride-sharing service
There are many ways to travel for less these days. You can travel for free by taking public transportation, walking, or biking. You can also try carpooling with a partner or group.
If you're interested in saving money on travel expenses, one great way to do so is by using a ride-sharing app. These apps allow you to connect with people who are traveling to the same destination as you, allowing you to split the cost of gas, tolls, and car upkeep.
If you're keen on saving money on travel, one of the best ways to go about it is by using a ride-sharing app. There are many ride-sharing apps available, and one of the best ways to find a good ride is by using the helpful search options provided by each app.
Lock in your current broadband internet rate with a VPN
One of the most basic, yet effective ways to save money on internet costs is to use a VPN. VPN stands for virtual private network, and it is a technology that creates a secure connection between your device and the internet.
This will allow you to mask your device's location and increase your internet security. Numerous benefits come with using a VPN.
First and foremost, it will help you lock in your current internet speeds at a certain price. If your internet is currently being offered at a certain speed and price, you will want to make sure to change this as soon as possible.
Stay connected with Drop biscuits and other ways to save on internet access
If you're interested in cutting costs on your internet access, one of the best ways to do so is by using a home phone that you don't need to tie to your internet plan. This is a surefire way to save money every month because you will no longer be paying for internet access as well as the phone service.
Several home phone plans provide you with free or very cheap internet access. Some of the most popular include Ring Central, AT&T Internet Preferences, and Verizon Internet Preferred.
Help keep your home secure with security sensors and alarm systems.
If you struggle to save money on home security, consider signing up for automatic payments. Many providers offer this program as a convenience to their customers.
When you set up an account for automatic payments, you can simply set a monthly amount that will be deducted from your bank account. This way, you don't have to worry about remembering to send money to your home security system.
Another way to keep your home secure is by installing a security system. These types of systems can range from basic wireless home security systems that can be monitored from your phone to more advanced models that can be linked to your internet connection.
Conclusion
Finally, if you're interested in cutting costs in your life, don't forget that you can take advantage of any savings opportunities that exist, even during a time of economic hardship. Saving money doesn't have to be complicated, and it doesn't have to take a lot of effort either.
If you simply open your mind to the idea of saving money in more creative ways, you will be well on your way to becoming financially secure.
Remember that many of the tips and apps outlined in this article are available to use for free. You don't need to spend any money to make your life more financially secure and independent.