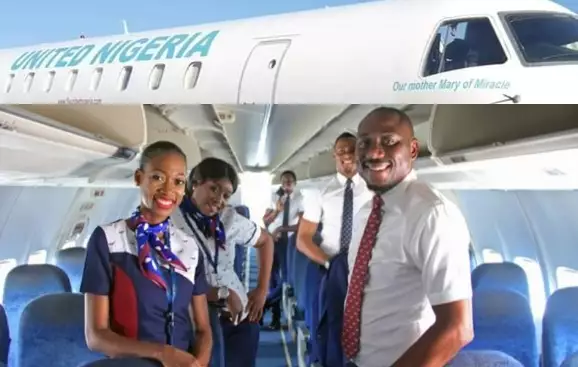 United Nigeria Airlines driver's needed
Company: United Nigeria Airlines
Location: Nigeria
State: Lagos state
Job type: Full-Time
Job category: Logistics/Transportation Jobs in Nigeria
Job Description:
Private Airlines Services Limited (Operators of United Nigeria) is a fully Nigerian company that was founded at the Corporate Affairs Commission under the Companies and Allied Matters Act of 1990 to provide commercial air transportation services under the registered trade name United Nigeria.
We're seeking for candidates for the following positions:
Job Title: Driver
Location: Lagos
Employment Type: Full Time
Reports to: Station manager / Admin manager
Effective Date: TBN
Job Description
Among other responsibilities, the Driver will be responsible for driving workers on official assignments, delivering packages to clients on schedule, working nights and weekends, and ensuring that cars are always ready for use.
The Driver will be responsible for driving, maintaining, cleaning, and maintaining the safety of the office car, as well as exercising efficient and effective vehicle handling.
Key Responsibilities
Transportation of personnel and products on official assignments, particularly to and from airports and surrounding areas, hotels, and vice versa.
Conducting vehicle maintenance inspections.
Maintaining good personal hygiene, which includes wearing a well-kept official outfit
Getting messages and packages to people on time.
Recruiting new employees, making office purchases, and other administrative tasks.
Finding the best path with the help of navigation applications.
Maintaining a professional demeanor when interacting with coworkers and the general public.
Working on weekends and at unusual hours.
Keeping a well-organized travel schedule.
Assuring that cars are always ready to use and have enough fuel.
When necessary, arranging for car repairs.
Updating the vehicle log book and other documents on a monthly basis.
When necessary, driving a range of vehicles such as cars, buses, and trucks.
Any extra responsibilities that may be assigned.
Qualification, Experience and Skills
Relevant educational qualifications are WAEC,SSCE, GCE, OND, NCE etc
Must have a valid driver's license
Not less than one (1) year driving experience
Must be physically fit to be able to lift objects
Excellent organizational and time management skills
Must have knowledge of dangerous goods and how to handle them
Must have excellent interpersonal skills
Must have a high sense of punctuality
Must be a good team player
Good verbal communication
Must be proficient in the use of GPS devices.
Physical Requirement:
May be required to work late hours
Must be physically fit and agile
Must be able to lift up to 15 pounds at times.
Application Closing Date
Not Specified:
Method of Application
Candidates who are interested and qualified should send their application (with location information) and CV to:
careers@flyunitednigeria.com
The topic of the email should be the job title.