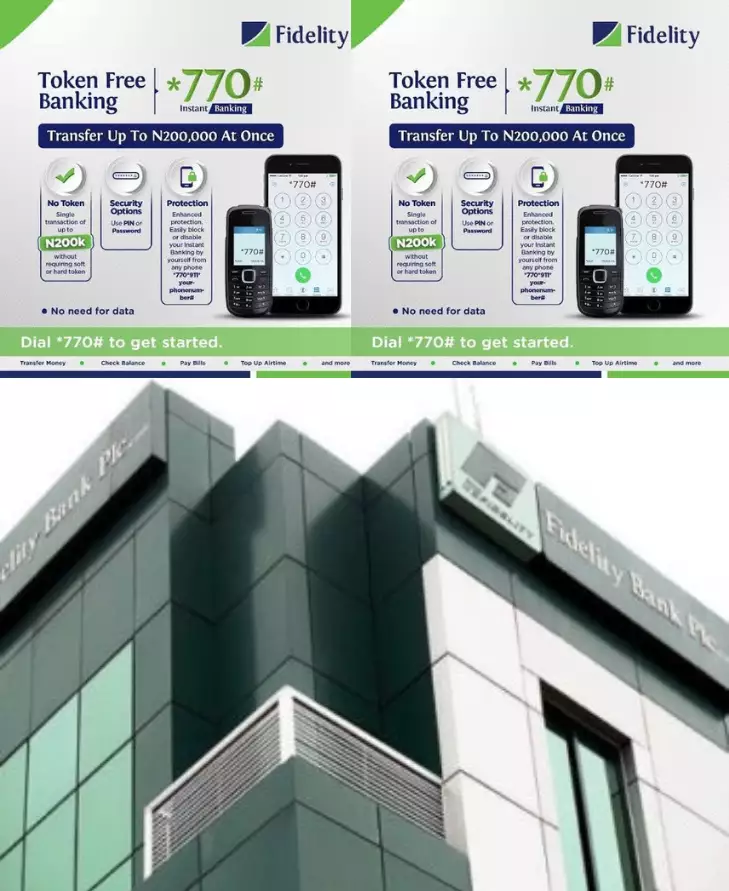 The Fidelity bank token serves as a transaction authenticator and PIN that customers of Fidelity bank must provide in order to complete certain transactions, such as wire transfers over a certain threshold.
What is the purpose of the Fidelity bank token?
You should understand that the token in question is a security feature that prevents unauthorized users from accessing your bank account. It goes without saying that internet fraud is on the rise, and scammers and fraudsters have taken center stage in Nigeria's banking industry.
Theft and loss of funds are everyday occurrences, so one must exercise extreme caution to protect their bank account.
The Fidelity bank token concept.
If you use Fidelity's online banking services, you will also need the Fidelity token. As you are aware, mobile banking is used for the following and other services.
Check out the account summary.
Account administration.
Payment in bulk to up to 1000 recipients at once, ideal for salary and vendor payments.
Bill payment options include DSTV, PHCN, and quick teller merchants. Control transaction limits.
Interbank and intrabank transfers of funds
Set up multiple levels of authorization in Fidelity corporate online banking.
Foreign currency transfers, for example.
Completing these transactions frequently necessitates the use of a Fidelity token. Fidelity bank token types.
The Fidelity token is divided into two types:
Soft tokens and
Hard tokens.
Although both tokens serve the same purpose, the mobile token is more convenient because it can be created and used at any time, while the hardware token requires physical transport.
How to Register/Activate a Fidelity Bank Token.
Download the "fidelity token" from the Google Play/App store.
Install the app and register.
To get started, enter your Fidelity online banking information in the appropriate columns (available on Android and iPhones).
This is primarily for the soft token. To make the hard token active. To make a request, please stop by any convenient Fidelity bank branch or write to [email protected].
Fidelity token frequently asked questions
What exactly is an invalid token response?
Ans. This usually happens when your token is out of sync and needs to be resynchronized. To get your token synchronized, please call Trueserve at 070034335489 or 09087989069.
Where this is not the case, it is possible that the token response was used after it had timed out. It is recommended that you use the token response within 30 seconds of its generation.
Non-receipt of OTP.
Ans. This could happen if the customer switched to a new phone number without notifying the bank to update the new phone number. If you are in Nigeria, you must go to the nearest Fidelity bank branch. Trueserve can be reached at 070034335489 or 09087989069.
How to Generate a Transaction PIN
Ans. The transaction PIN allows for N200,000/day authentication.
Launch the Online Banking app.
Go to settings and enter a PIN.
Follow the prompt and provide the correct answers as needed.
What exactly is a one-time password?
Ans. An OTP is a one-time password that can only be used for a limited number of authentication attempts within a specific time frame for certain services in your Fidelity online banking account. For example, new user setup, password change, and so on.
What if I forget my login information?
Ans. If you have forgotten your login information, please contact Fidelity bank via e-mail or by visiting any Fidelity bank branch. If you only forgot your login passwords, you can use the forgot your password link on the mobile app or the online banking home page.
How come I keep getting the "Invalid username or password" message?
Ans. You are entering an incorrect username or password, most likely an incorrect password, in this case. Do a password reset using the "forgot password" option, visit your nearest Fidelity bank branch or contact Truserve at 070034335489 or 09087989069.
Conclusion.
The Fidelity bank token is simple to activate; however, you will need to be enrolled in online banking to use it, as it serves as a second layer of authentication for online banking transactions. In this case, the token/PIN generated must be used within 30 seconds or it will become invalid.
If you have any questions or comments, please use the comment box. It's your turn now, and I appreciate your patience.